Integrating with other systems
Stand alone or integrated document automation?
Document automation is awesome - even when it is completely independent of other systems. As you can see from the LawHawk Documents that are generally available via this site, there are massive time savings and quality benefits available by accessing automated documents through LawHawk's independent cloud based system. There is no IT for you to set up and maintain, and so its a great way to get started with document automation and start to experience it, while working out how it fits into your broader strategy.
However, if you know that automation is a key part of your overall business strategy, you will be wanting to look at whole business processes - not just individual documents - and how they can be seamlessly automated to achieve organisational outcomes. This broader automation is the way that work is heading, and document automation is increasingly viewed as a subset of Business Process Management (BPM). Adding automated document production to BPM systems creates an ideal scenario where organisations are assured that data entering their BPM workflow via an enterprise database remains the one source of truth, as it is pulled into HotDocs to create perfectly accurate, perfectly formatted business and client documentation. No rekeying, no duplication of effort, no human error. For more on this, see this blog: Enhance both BPM and Compliance with Document Automation.
The good news is that HotDocs has been designed to integrate into other systems in this way. You can start with integration in mind, or with stand-alone documents and transition to more integration at a time and pace that suits you. The initial stand-alone automation that we can do for you will not require much amendment for integration. We'll simply need to connect to your other systems, and HotDocs has a lot of existing APIs to facilitate that.
Because HotDocs is focussed only on great document automation (and is the market leader in that service) you can join it up with other best-of-breed systems. While other solutions may come with built in automation, workflow, document management etc., you may already have some of these solutions, and how likely is it that one product will be the best at all of these things in any event?
HotDocs Integrations Webinar
If you want to see how HotDocs can be integrated into other systems, this integrations webinar from HotDocs is a great start as it demonstrates a number of integrations with Business Process Management systems (BPM), Customer Relationship Management systems (CRM), Document Management Systems (DMS) and e-signatures.
K2 Workflow Integration
For a more in-depth look at how HotDocs has integrated with an overall workflow system, see this webinar.
Technical Information
If you want to dig deeper in this area, you can see this material from HotDocs aimed at providing HotDocs partners with all the technical knowledge needed to deploy enterprise level HotDocs implementations. In a banking context, you can see this example integration for a bank.
Existing LawHawk Integrations
LawHawk have linked up with innovative legal technology companies Lawvu and Secured Signing.
Lawvu provide matter management and operations software for legal departments.
Creating matters and tasks is simple and intuitive from within LawVu. When creating a task, with the LawVu/LawHawk integration, you can link directly to the LawHawk template, allowing the user to get straight onto the job of drafting the relevant document from the correct and up to date version of the template.

Secured Signing provide a powerful, secure and easy to use digital signing solution, which includes the ability to embed "smart tags" into documents, so that the documents can be uploaded into the Secured Signing platform, pre-configured for signing.
LawHawk's automation can allow a user to easily configure these smart tags so there is no need to learn the specific Secured Signing formats.
You could use this for legal agreements, as below, or just as easily to manage internal sign-off forms where many people need to approve something.
For more on this relationship, see this blog post: Digital signing for lawyers - Secured Signing and LawHawk Join Forces.
For any customer interested in Secured Signing, please visit this page for a special discount.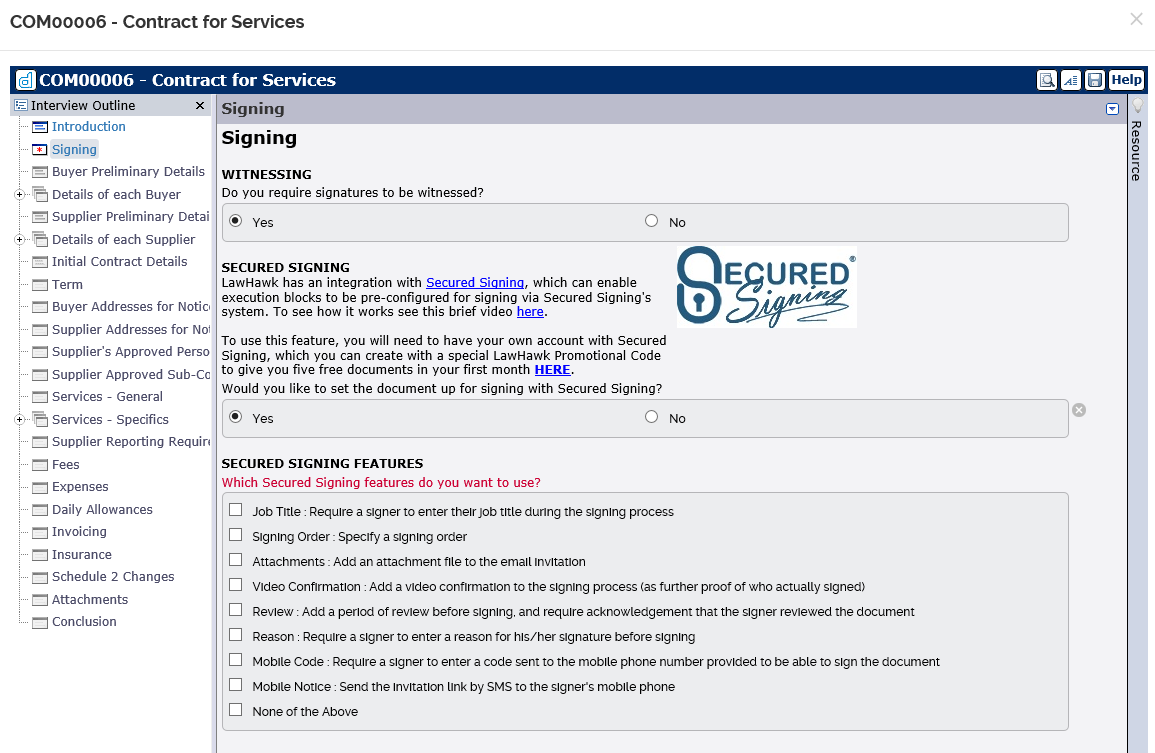 Further Information
If you would like any further information, please click the button below:
wasnowsavefromtoapprox