Complex Merchant Agreement processes automated for Laybuy
Laybuy is a rapidly growing buy-now, pay later platform providing consumers with an interest-free alternative to credit cards.With Laybuy, consumers can purchase the products they want now and spread the costs across six weeks without incurring monthly interest. For merchant partners,Laybuy provides a low-risk credit option they can offer to their customers to help support increased sales and lift average basket sizes. Laybuy is quickly scaling with new customers and new merchants joining across New Zealand, Australia and the UK daily.

Growing rapidly in New Zealand, Australia and the UK the legal requirements and governance required from Laybuy's General Counsel and sole lawyer, Tim Rennie, were immense. The speed of execution, essential. As a company looking to deal with increasing scale, Laybuy needed a system that could accommodate the speed required to help their sales team sign up new merchants at high volumes without delay from the business' legal counsel and without necessarily hiring more legal resource.

A Microsoft Power Automate and SharePoint solution designed to automate Merchant Agreements through intelligent workflows.


Legal speed critical to business success
Tim Rennie, Laybuy's General Counsel, who oversees all legal requirements and governance for Laybuy was aware his speed was critical to the business' overall success. He knew that in order to handle the projected scale, Laybuy needed a better internal infrastructure to handle the high-volume, low complexity legal work.

The sole counsel at Laybuy, Tim's role is varied. Not only does he have to be across a wide range of regulatory issues in multiple countries and deal with listed company obligations, but he also needs to produce terms and conditions for new products and oversee employee contracts.

Rather than hire additional legal counsel, Tim was eager to implement a legal software solution that could reduce his administrative workload and allow him more time to focus on complex issues.


An effective solution found in
Microsoft Power Automate and
SharePoint
Having worked on previous legal automation projects, Tim was eager to implement a pragmatic solution that had the functionality Laybuy needed but wouldn't interfere with, or complicate other business areas.
Tim says, "I think a lot of businesses have this sort of platform fatigue. Every department has got their own system, and for a legal team to come in and try to impose another platform, another system for people to learn, especially when the business can see that there are obvious overlaps with functionality, it can be hard to roll out."
Prior to reaching out to LawHawk, Tim had investigated other legal solutions, but nothing ticked all the boxes. No legal software could handle the level of sophistication and complexity in contract drafting that Tim needed.
Tim engaged LawHawk to help find the right solution to automate Laybuy's contracting, workflows and storage. Taking a collaborative approach, LawHawk and Tim worked to identify the initial automation projects. Through this process it became clear that the best solution for Laybuy was to activate the functionality offered by the business' existing Microsoft 365 subscription, using Power Automate and SharePoint paired seamlessly with Cognito Forms and AdobeSign to automate the process for generating, approving, and signing Merchant Agreements.
LawHawk facilitated the project, introducing and managing communications with the SharePoint Agency, who LawHawk introduced to deliver the Microsoft 365 elements of the solution.
LawHawk, The SharePoint Agency and Tim worked closely to understand, map and deliver Laybuy's requirements.
The project was complex and not without challenges. The team needed to consider Laybuy's commercial and legal escalations, specifically the different types of legal situations where counsel would need to be notified and different commercial escalations in each jurisdiction. In addition to this, Laybuy used Gmail as their main email solution, so the team had to accommodate and implement creative solutions to make the two systems work effectively together.
Key Features of the Solution
You can see many of the key features of the solution in the example video below.
A dynamic platform capable of more than just legal automation
Despite the initial challenges, the result is a dynamic platform that has enabled the Laybuy sales team globally to be self-sufficient in drafting their Merchant Agreements, accessed through a Notion Page that Tim maintains.
The workflow, while complex from a development point of view, is extremely user friendly. Laybuy employees are guided through
a detailed questionnaire that ensures mandatory fields are answered. The questionnaire essentially asks all the questions a lawyer familiar with Laybuy's business would ask. If commercial or legal escalation is required, all parties are notified, and the subsequent information is adjusted and automatically updated into the SharePoint system.
"I mean, for me, it's brilliant. I can just sit there watching requests come through. I can see them coming in. I can see them getting signed. I can see them going into SharePoint, all signed, all data tagged," says Tim.
Once all approvals are obtained, the requester gets a copy of the final contract document (as amended by legal) and an email saying that it is now ready for signing. If all required information for digital signing is held, the requester can click a button and send it out for signing via an AdobeSign integration. AdobeSign then manages the signing workflow and SharePoint is updated to show that the document is out for signing.
"The feedback's been really good. We've had some requests come in from the business around automation and as they get more used to using it, they can see that there's a lot of opportunity there," says Tim. "You could use it for invoice approvals. You could use it for anything.
It's got a big scope. We're actually thinking about using the workflow we've built with LawHawk and The SharePoint Agency for supplier onboarding as well."
Regarding their partnership with LawHawk Tim says, "I think the benefit of working with LawHawk is that they help you focus your mind on what it is that you're trying to do and the outcomes you need to achieve. If you try and go for the most complex automation at the beginning, you'll probably just get nowhere.

You need to think about building a relationship with the wider business to support what you're doing rather than approaching it as a project just for your department. LawHawk has been critical for us in that regard."
"They also helped us to select the right mix of technology for our needs. We could have selected a much more expensive legal tech platform which would have had a lot of functionality we didn't need, while lacking functionality in other key areas. At the same time, had we tried to do everything with Microsoft 365, as some say is possible, we couldn't have done what we needed. LawHawk were able to understand our situation and suggest a combination of technology and support that met our needs at a very affordable cost, and then work really closely with me to design and build a solution that does everything we hoped for and more. Now that we know how each other works, future projects will be very quick to deliver."
Having built an automated system that address the core parts of Laybuy's non-consumer business, Laybuy looks forward to automating more of their business with the Microsoft based solution LawHawk facilitated.

Keen to get more from your M365?
If you would like a similar solution, customised for your organisation, please contact LawHawk for a discussion on your requirements.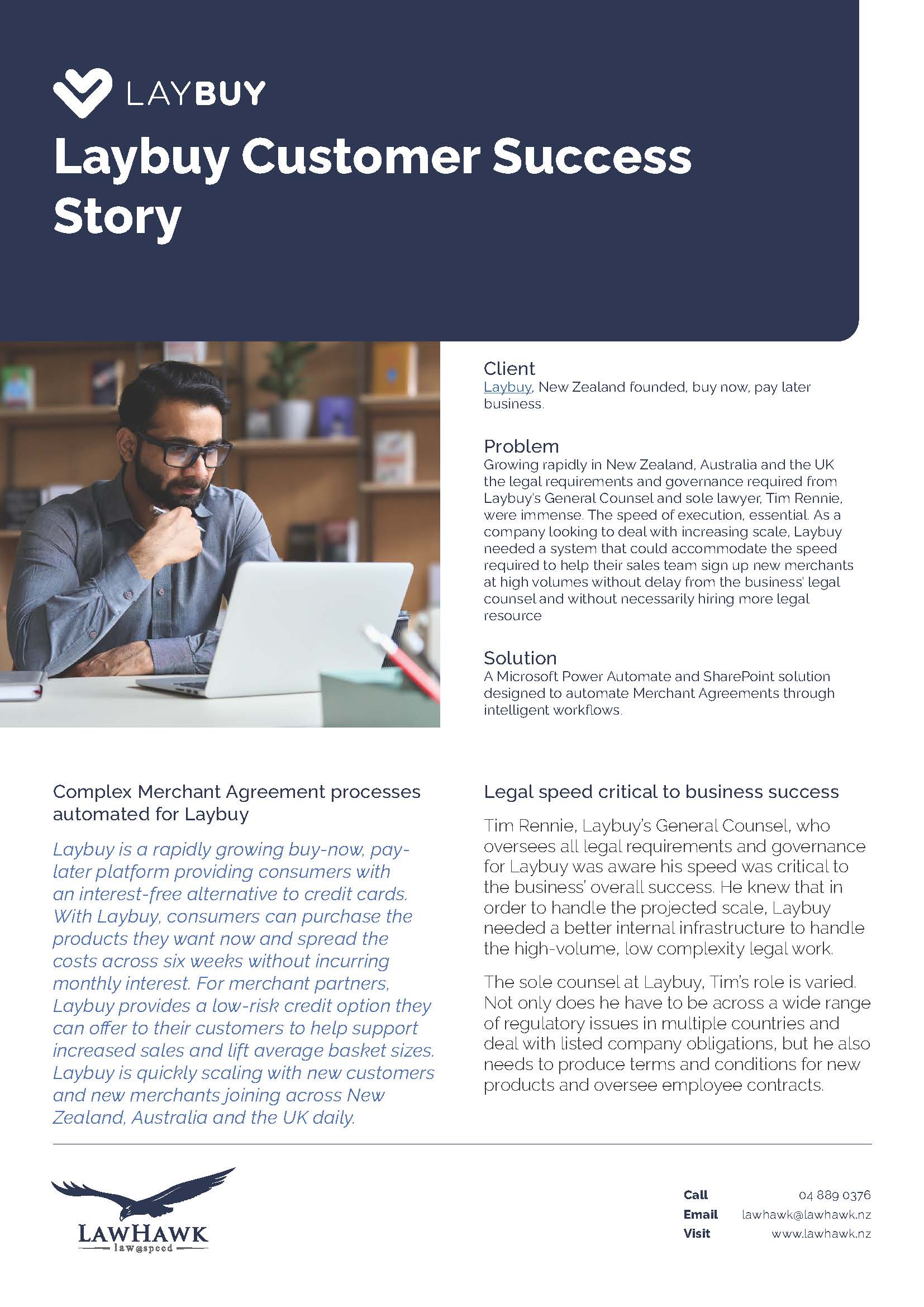 wasnowsavefromtoapprox