LawHawk for Banks and Lenders
Why banks and lenders should automate
Automating documents which are complex or used frequently could save significant time and money for banks and other lenders. It could enable the bank to bring work back from firms to the in-house team, or business users to prepare documents themselves directly with less support from the legal team.
We have automated loan, guarantee and security documents for 5 New Zealand banks and the Singapore branch of a global bank. We have done this either directly with the bank, or for one of the bank's panel law firms for their own use. We have been able to use the same underlying automation "engine", as it is proven to work well across each bank's own documents.
An example of a HotDocs Banking Transaction Interview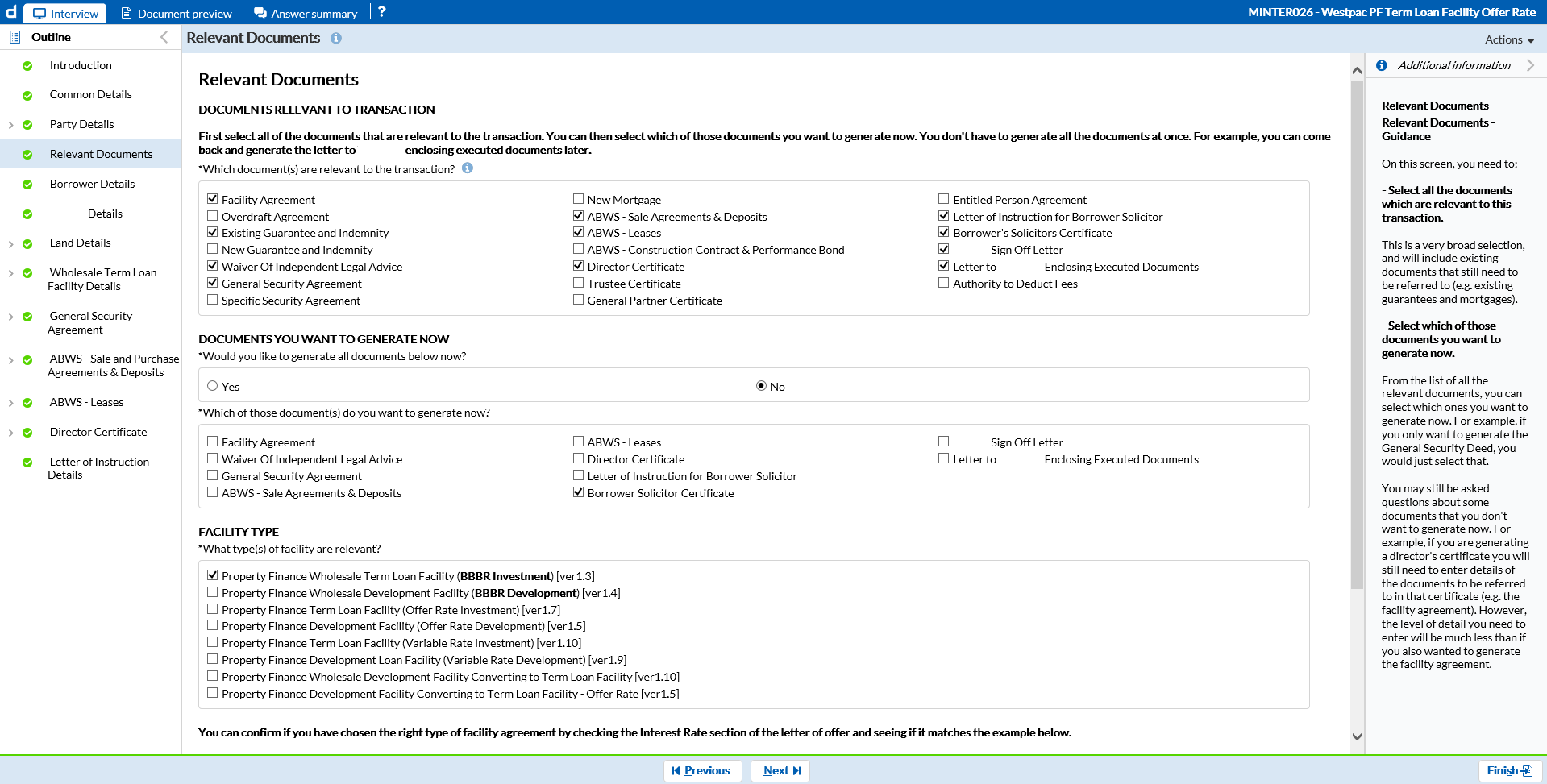 How does your bank currently use document automation?
Most lenders will already use document automation for customer-facing lending transactions at the home loan, personal lending and small business banking level. These may be custom build solutions, or modules that have been added onto some other system.On the surface they may appear to be low cost. But consider:
How easy is that system to use?
How easy is it to change documents or processes?
What are the total real costs of the existing solution? Make sure you include delays to your business, and the costs of all the people who need to be involved in supporting and maintaining it.
Many such custom-built systems have only been designed with one process in mind. However, what about other areas such as:
procurement documents
employment agreements
property documents
marketing checklists and other compliance documents
corporate lending (term sheets and transaction documents)
variation letters
releases of security and guarantees
waiver letters
internal forms and correspondence?
A specialist document automation software like HotDocs, supported by expert legal document automators like LawHawk, can do many documents, not only one type.
Links with Robotic Process Automation
Many banks are using Robotic Process Automation (RPA) to automate some of their most basic processes.Document automation is well suited to work alongside RPA. For example:
Processes that are not entirely mechanical may be handed off from the RPA tool to a human user. With document automation, and more sophisticated logic provided by LawHawk, the human user can still work more efficiently than currently
Where a complex document needs to be assembled, a specialist document automation solution such as HotDocs is still required. In such a case, the RPA tool could enter much of the information into the interview questionnaire drawing on data from other systems, maintaining maximum efficiency across the whole process.
Expected benefitsBanking documents, which are some of the most complex legal documents you can find, require powerful automation technology.
LawHawk selected HotDocs' platform as our engine as it has over 1,000,000 users, many in global banks such as HSBC and RBS (and BNZ in New Zealand).
HotDocs can handle the complex legal documents that banks commonly produce.
Banking achievements using HotDocs' platform internationally include:
Achieving 100% accuracy for facility letters in a global bank;
175 work hours saved per day processing 100-page credit documents; and
500,000 loan packets produced each month by a commercial lender.
See
here
for more detail on the expected benefits of using our lending and derivative transactions solutions.
To experience the benefits of document automation for yourself through a free trial, or to discuss how document automation could help your bank, please click the button below:
wasnowsavefromtoapprox