Banking
Automating documents which are complex or used frequently could save significant time and money, particularly if it enables the bank to bring work back from firms to the in-house team, or enables the business to prepare their own documents directly with less support from the legal team. Use this benefits calculator to test the possible benefits.
How does your bank currently use document automation?
Most lenders will already be using some form of document automation in relation to customer facing lending transactions at the home loan and small business banking level, but what about other areas such as:
procurement documents
employment agreements
property documents
marketing checklists and other compliance documents
corporate lending (term sheets and transaction documents)
variation letters
releases of security and guarantees
waiver letters
internal forms and correspondence?
Potential automation benefits for banking
Banking documents, which are some of the most complex legal documents you can find, require powerful automation technology. LawHawk selected HotDocs' platform as our engine as it has more than 1,000,000 users, many in global banks such as HSBC and RBS (and BNZ in New Zealand), and can handle the complex legal documents that banks commonly produce. Banking achievements using HotDocs' platform internationally include:
Achieving 100% accuracy for facility letters in a global bank;
175 work hours saved per day processing 100 page credit documents; and
500,000 loan packets produced each month by a commercial lender.
Another HotDocs customer, a large law firm, achieved a 94% reduction in processing time for real estate documents.
See these very useful HotDocs webinars on HotDocs for Banking and HotDocs Integrations.
LawHawk wants to enable similar benefits for banks in New Zealand.
Case Study: The NZBA priority documents
Download the case study below to see how document automation has substantially improved the speed and quality of preparing the NZBA priority documents.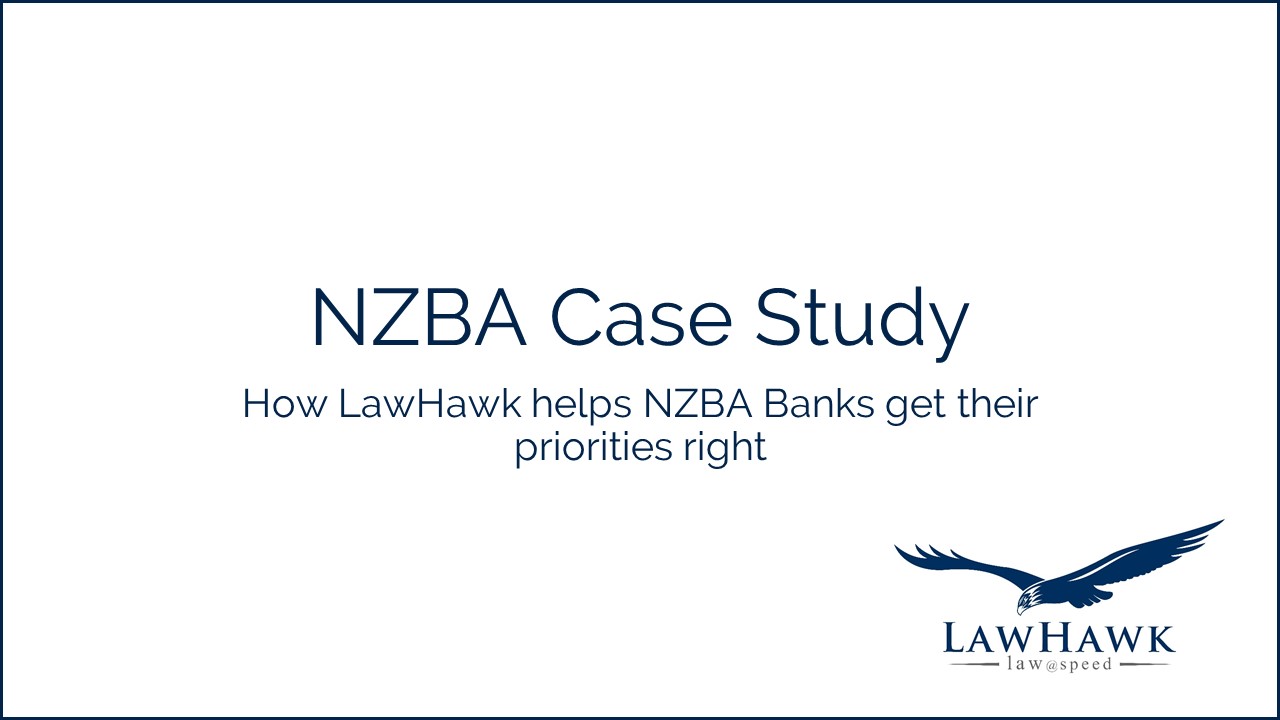 Watch the video below to see how a deed of priority can now be completed to a very high standard of quality in less than 2 minutes.
Other automated banking documents
Watch the video below to see a draft automated BFSLA Transaction Opinion (as at 3 July 2016)
Watch the video below to see a draft automated 2002 ISDA Schedule (as at 3 July 2016)
Experience LawHawk for yourself
To experience the benefits of document automation for yourself through a free trial, or to discuss how document automation could help your bank, please click the button below:
wasnowsavefromtoapprox