Construction
Automating documents like 3910 and CCCS could save significant time and money in the construction industry, allowing people to get on with their real work, spending less time on paperwork. Legal and compliance teams can have more confidence that documents are legally sound without as much time and money required for legal review.
"The combination of standardised templates and automation have reduced the time taken to prepare a contract from 40 hours to 1 hour – a 97% time saving. That must be considered a truly spectacular productivity gain!"
Bruce Riden, General Counsel of Housing New Zealand
With documents being prepared so much more quickly, document automation can help your team get substantial hours back in the day - particularly when used with complex documents like 3910, or high volume documents like subcontracts which could be prepared by an organisation thousands of times per year. You can use this benefits calculator to test the possible benefits.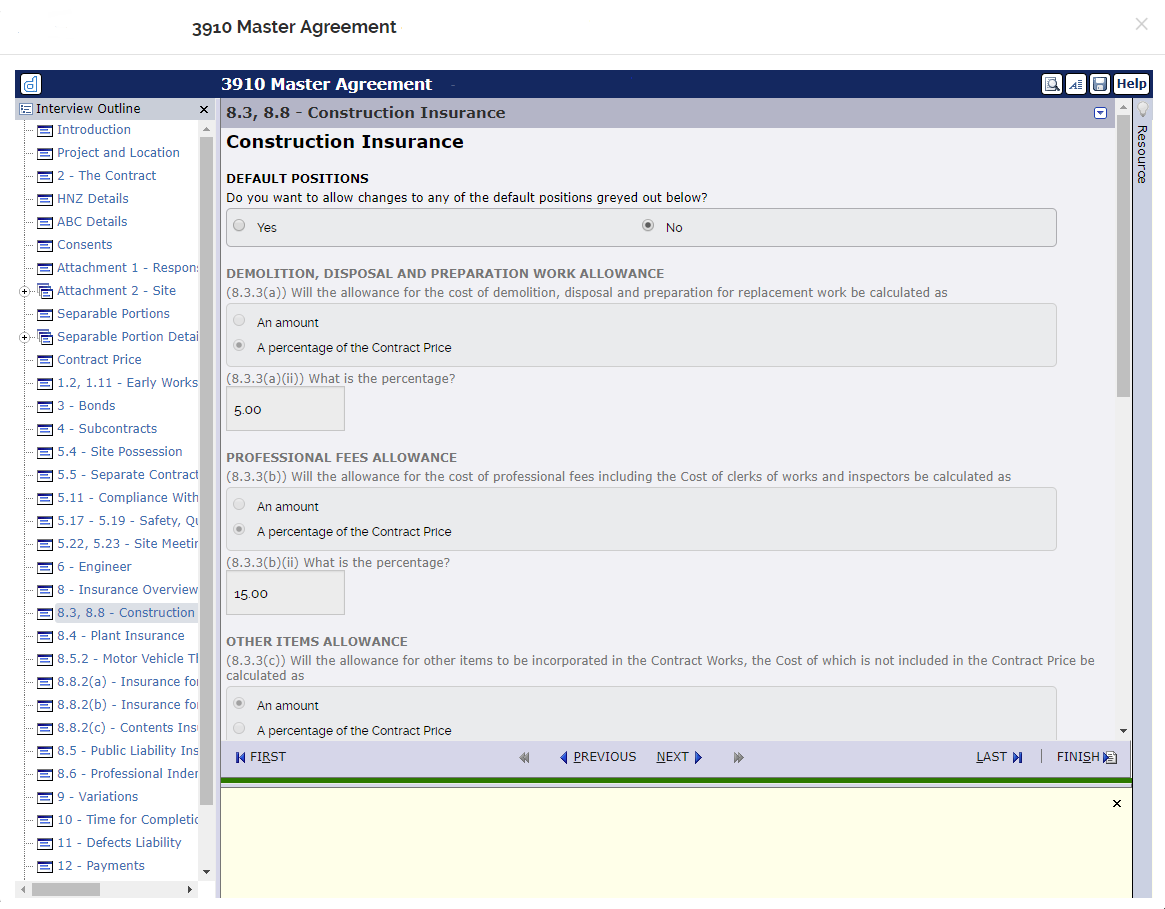 An example of an automated 3910 contract
Why automate construction documents?
Construction documents are ideal for automation, because many of them are based on industry standard templates like 3910 or CCCS, but also require some customisation. Often the people who have to prepare the documents aren't legally trained - they're just busy people who need to get on with their real jobs. They might not have access to legal support on a timely or cost effective basis.
Without automation, there are a number of common problems:
The documents have too many options. Although this flexibility is needed to make sure the project works well in practice, many staff do not have sufficient knowledge and training to use them properly. Or if they do, it either takes too long or they find shortcuts, like working from previous documents rather than the template, to remove some options.
The documents have too few options. To avoid the first scenario, many options are removed. This makes them easy for the user to complete, but in practice "one size fits all" means "one size fits none", as there is not enough customisation to reflect the particular requirements. The paperwork has to reflect what people need to do in practice.
There's lots of guidance about how documents are supposed to be used, but users either don't read it, or don't follow it, as there is too much, and it's hard to find the bits that are relevant to the particular issues.
There are lots of documents to maintain, many of which are very similar (e.g. different versions for 3910 such as design and build, civil works lump sum, civil works measure and value, and construct only, which we have combined into a single master template for one customer).
The benefits of automation
With automation:
Key documents such as contracts can be prepared much more quickly AND to higher standards of quality and consistency.
The process can be automated, so that information from one document (e.g. a head contract) can be re-used in later documents (e.g. a number of subcontracts).
Separate guidance can be incorporated into the questionnaire, so users can find the right information at the right time.
Multiple documents can be combined into one, with the relevant versions controlled via one or two questions.
Users will want to use the right templates as it will be the fastest and easiest way to do a great job.
Users can focus on their real work.
How automation has helped Housing New Zealand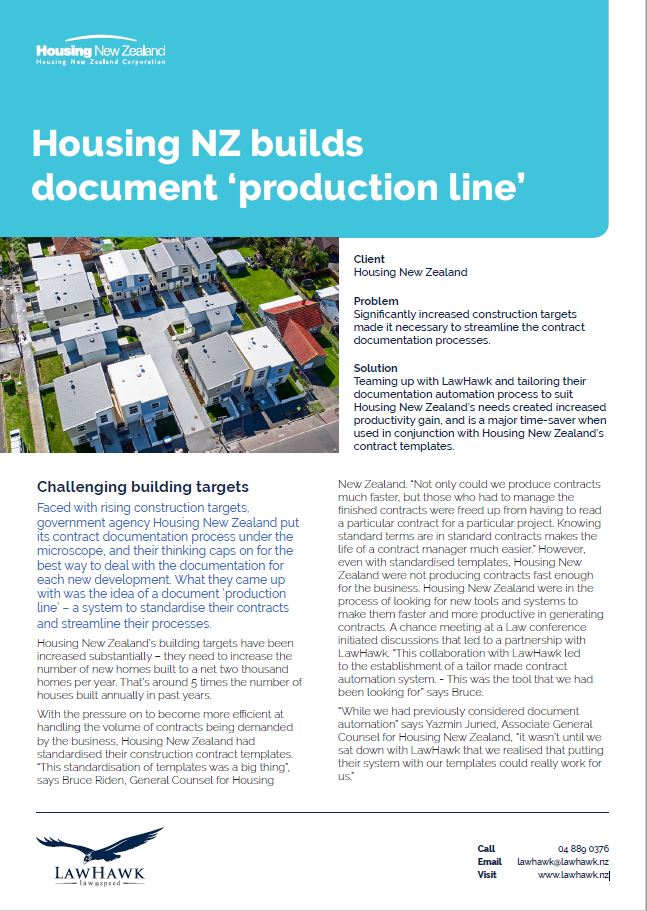 Experience LawHawk for yourself
To experience the benefits of document automation for yourself through a free trial, or to discuss how document automation could help you with your work, please click the button below:
wasnowsavefromtoapprox