LawHawk for the Construction Sector
Why automate construction documents?
Automating documents like NZS:3910, the Master Builders Sa-2017 subcontract and the Engineering New Zealand and ACENZ CCCS and short-form consultancy agreements can save significant time and money in the construction industry.
Our award winning work (see below) with Kāinga Ora – Homes and Communities and Armstrong Downes Commercial proves that automation allows people to get on with their real work, reducing contract turn-around times and getting projects moving sooner. Contracts are more accurate and consistent in how risks are identified and dealt with.
With documents being prepared so much more quickly, document automation can help your team get substantial hours back in the day.
Time savings are particularly significant when used with complex documents like NZS:3910, or high volume documents like subcontracts which could be prepared by an organisation thousands of times per year.
An example of a HotDocs NZS3910 Construction Contract Interview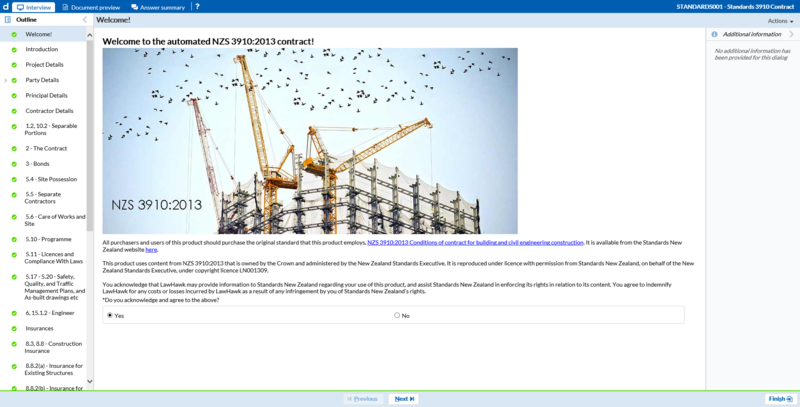 An example of a Master Builders SA-2017 Subcontract Interview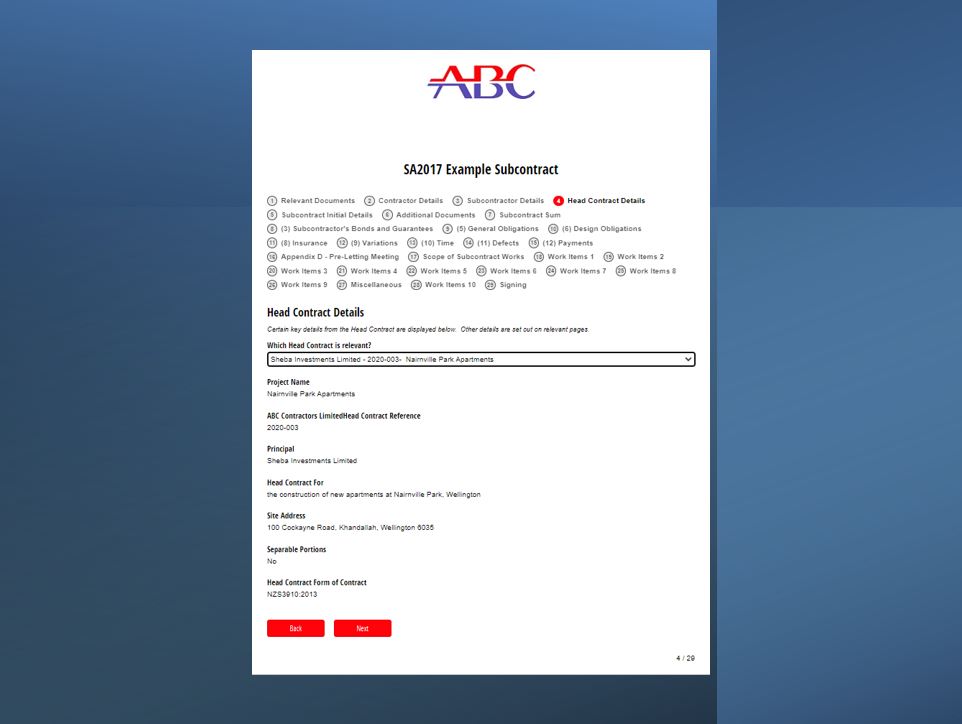 Why automate construction documents?
Construction documents are ideal for automation, because many are based on industry-standard templates like NZS:3910, SA-2017 or CCCS, but also require some customisation.
Often the people who have to prepare the documents aren't legally trained - they're just busy people who should be focussing on delivery but get bogged down in paper-work.
They might not have access to legal support on a timely or cost-effective basis.
Problems automation addresses
There are several common problems automation addresses:
The documents have too many options. Many staff do not have sufficient knowledge and training to use them properly. Or if they do, it either takes too long, or they find shortcuts, like working from previous documents rather than the official template.
The documents have too few options. To avoid the scenario above, many options are removed. This "one size fits all" means "one size fits none", as there is not enough customisation to reflect the particular requirements. The contract should have enough flexibility to reflect what people need to do in practice.
There's lots of guidance about how documents are supposed to be used. However, users don't read it, or don't follow it, as there is too much, and it's hard to find the bits relevant to the particular issues.
There are lots of documents to maintain, many of which are very similar.
Document drafting is only part of the story. As you can see from our Armstrong Downes Commercial case study on the Master Builders SA-2017 subcontract, automating the overall process can remove weeks of time from the process - which can be critical when materials and labour can quickly increase in price or become unavailable!
Documents for the New Zealand Construction Industry
There are many documents used heavily in the New Zealand construction industry that are well suited for automation. These include:
NZS:3910
Master Builders SA-2017
Engineering NZ and ACENZ - CCCS and Short Form Consultancy Agreement
Subcontracts
Health and Safety forms
Payment claims
You can see more about how these documents can be automated, and the expected benefits, on our Construction Solutions page here. There, you will see how we have worked with Standards New Zealand, the Government Agency responsible for the NZS:3910 and similar contracts to build a base automated 3910 contract that can be used across the construction sector.
We have similarly worked with Master Builders, ACENZ and Engineering New Zealand on the long and short-form consultancy agreements they publish.
The expected benefits of automation in the construction space apply at an individual organisation level and a whole sector level.
Expected benefits at an organisation level include:
Substantial productivity gains. Kāinga Ora were able to produce over twice the number of contracts (compared to before the original pilot) with the same number of staff
Faster turnaround times (average turnaround time to Kāinga Ora reduced from 6.5 days to 2.8 days (across the full contract suite))
75%+ reduction in the time taken to prepare contracts

time taken to prepare 3910 construction contracts reduced from around 4 hours to 1 hour
Reduce overall contracting time by weeks to days, allowing work to be scheduled more quickly, locking in materials and labour before prices increase or they become unavailable
time taken to prepare short-form consultancy agreements reduced from approximately 50 minutes to 15 minutes
time taken to prepare long-form consultancy agreements reduced from 2 hours to 40 minutes

Reduced external spend
Reduced staffing costs. For Kāinga Ora, initially projected staffing requirements decreased from 8 contract facilitators to 4
Improved quality of contracts prepared, with fewer mistakes being made and less need for checking. Kāinga Ora staff learned more about the contracts using the automation tool
Easier template management as multiple templates can be combined into one, with the versions controlled by one or two questions in the interview questionnaire
Greater staff satisfaction, reduced stress, and better relationships with customers.
Potential benefits of automation of industry-standard documents at a sector level include:
The cumulative impact of the organisational level benefits
The ability to maintain consistency in the use of the industry-standard documents across the sector. For example:

Common concepts and risk allocation can be dealt with in the same way, in the same locations, reducing the "needle in a haystack" searches needed to search an entire contract to identify risky provisions
Enforcing compliance with agreed best practices, such as the Construction Sector Accord, by building key concepts and principles into the solution
Raising the level of capability across the sector by incorporating guidance as to legal requirements and best practices into the automation tool
A more collaborative approach between Contractors and Sub-Contractors, focussing on the substance of the agreement, not the words in the document!
How automation has helped our customers
Our work with Kāinga Ora - Homes and Communities has been very successful, winning the World Commerce & Contracting 2019 Asia Pacific Award for Operational Improvement, as you can see here.
More recently we have also had significant success streamlining subcontracting processes for Armstrong Downes Commercial, winning the World Commerce & Contracting 2021 Asia Pacific Award for Operational Improvement.
You can also read more in these case studies:
For more information on LawHawk's particular solutions for the Construction Sector, please click here.
To talk to us about how we could help you, or others in the construction industry, please click the button below:
wasnowsavefromtoapprox