LawHawk for In-House Legal Teams
They helped create what we needed for our own purposes. They even rewrote and reorganised some of our documentation. They were able to combine a couple of the consultancy templates into one. And that's been amazing
Yazmin Juned - Associate General Counsel, Kāinga Ora – Homes and Communities
We've worked as in-house lawyers ourselves, and understand the challenges of improving legal operations while managing a heavy workload, and with limited budgets or IT support.
That's why we've developed a range of solutions specifically aimed at helping in-house legal teams within the scope of technology and budgets available to you.
Our service options include:
Advanced document automation solutions for lawyers, enabling you to do complex legal work four times – or more - faster
Self-service tools for the wider organisation that can work within and complement existing organisation IT, in particular, SharePoint and Office 365
Assistance in evaluating and using other legal technology, including legal operations platforms, digital signing, workflow and contract management
Help with identifying high potential areas for improvement. This could include work you can bring in-house to reduce legal spend, or work you can shift to the business, customers or suppliers to do more of the heavy lifting
Partnerships with other organisations that can provide more extensive help with particular issues
Assistance in drafting and maintaining legal precedents, or other resources such as guides or negotiation play-books.
If you want to change the way you manage and do your legal work, we can help.
Advanced automation for in-house legal
In-house lawyers now do a lot of the work they used to instruct out to law firms. However, often in-house teams don't have the systems that external law firms have (or that you might think they have) to do it efficiently.
We can work with you to design a solution that your own lawyers or support staff can use to prepare high-quality documents in minutes, rather than hours. A small group of super-users can manage a workload that previously would have required a much larger team.
We can also design easy to use online intake forms to gather the required information from internal clients. This will ensure you have all the information you need to do your work efficiently.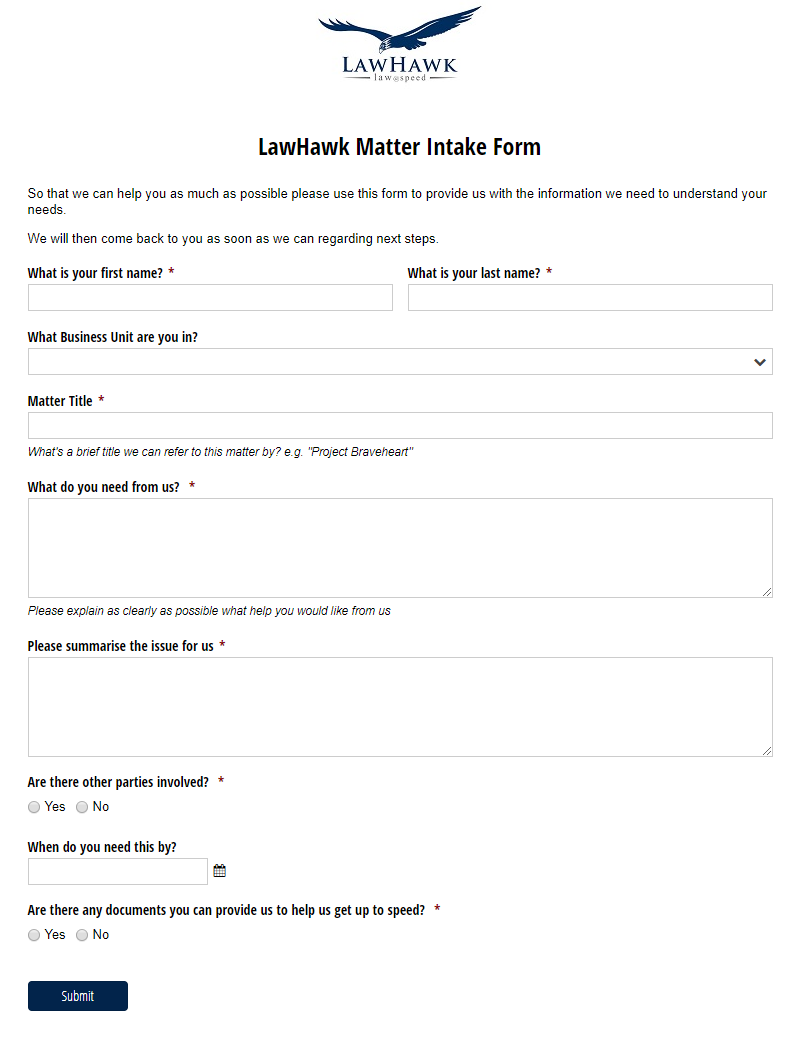 Your clients can complete all the required details and upload any useful background material. Their information will then be instantly emailed to the legal team for triage and allocation.
For an example of a successful roll out of document automation in an in-house legal team, please see our Kāinga Ora – Homes and Communities case study. This project was a joint winner of the IACCM Asia Pacific award for Operational Improvement in 2019 and the 2018 Lexis Nexis/Janders Dean Legal Innovation Index Award.
LawHawk's Legal Self-Service Solutions
A lot of work that has needed to be done by in-house legal teams can now be done directly by your business clients if given the right tools.
LawHawk can provide a solution that includes:
Attractive dynamic forms that can be styled to your own brand and embedded into your own intranet or external website
Lots of dynamic logic, enabling the user to be given the right document or information, immediately, or for someone else (e.g. the legal team) to get an instant notification and all the information they need to progress things
It's not limited to documents. It can operate as an expert system, giving answers or information, or routing information to others for approvals
It can be used on a wide variety of legal and business processes
Support from us, meaning we can work with you to design the overall solution, and then implement and keep it running
The software we use for this has a compelling licensing model, that isn't limited by numbers of users (internal or external) or documents generated. It's perfect for self-service.
For a more extensive look at how our solutions can complement your existing SharePoint/Office 365 solutions, you can watch this webinar:
Wider business processes and collaboration
The technology we use is mostly cloud-based, and (to the extent you want) accessible by anyone with an internet connection. While our services usually involve an element of legal analysis or document generation, they can easily extend further forward or back in the overall business process.
This can allow you to design more efficient end-to-end business processes that contain a high degree of legal quality and compliance.
Online forms can be embedded in an intranet or included in an email (for business self-service), embedded on a website (for collaboration with customers), or secure portals (for collaboration with key business partners, such as law firms).
It's your process, and the choice is yours!
For more information about our automation services generally, please see our Automation Services page.
For examples of the solutions we can build for you, please see our Solutions page.
Download our Foodstuffs North Island Case Study:

To start a discussion about how we could help your in-house legal team, please click the button below:
wasnowsavefromtoapprox