Construction
LawHawk's document automation system means that there's not just a huge increase in productivity gain, but there's no compromise on quality
Yazmin Juned - Associate General Counsel, Kāinga Ora – Homes and Communities
We have been working in the construction contract space since 2017, when we began working with Kāinga Ora – Homes and Communities (at that stage Housing New Zealand). Kāinga Ora is the New Zealand Government Agency responsible for public housing and delivering the Government's priorities for housing and urban development in New Zealand.
Kāinga Ora – Homes and Communities
Our work with Kāinga Ora, and the results they have obtained, is set out more fully in this case study, and we jointly won the 2019 IACCM Asia Pacific Award for Operational Improvement. In 2018, our early work together won the Lexis Nexis/Janders Dean Legal Innovation Index Award, and Kāinga Ora's legal team was a finalist for the ILANZ In-house Innovation Award.
While our work with Kāinga Ora is ongoing, our initial work involved the delivery, within a few weeks, of:
five versions of the NZS:3910 construction contract (design and build, civil works measure and value, civil works lump sum, construct only, and construct only - remedial works)
a long-form consultancy agreement, based on CCCS
a short-form consultancy agreement, designed with the legal team for more straightforward situations
These were very tailored documents, that incorporated all the special conditions and amendments that Kāinga Ora need, with guidance and default options tailored to Kāinga Ora.
Armstrong Downes Commercial
Since 2020 we have worked with Armstrong Downes Commercial to automate their subcontracting processes using the Master Builders SA-2017 subcontract.
This project has been far more successful than any of us expected, as not only did it result in substantial time savings in drafting the documents, but it has also affected the way in which Armstrong Downes and its subcontractors negotiate and agree the subcontract. Instead of a process that could take anywhere between 4 and 10 weeks, subcontracts are now being finalised in the pre-let meeting and signed by subcontractors on their phones before they leave the meeting.
The outcome is that they leave the pre-let meeting knowing they have a subcontract and that they can safely order materials. For Armstrong Downes they know that the project is not at risk of delay or unexpected cost increases due to materials price increases.
To learn more about this project, and the benefits for both Armstrong Downes and their subcontractors, please see this case study and this World Commerce & Contracting Webinar: From Weeks to Hours - A case study on automating & streamlining the subcontracting process - APAC
This project won the World Commerce & Contracting Asia Pacific Award for Operational Improvement in 2021.
Industry Standard Construction Documents
Following our success with Kāinga Ora, we have worked with Standards New Zealand, the Government Agency responsible for the NZS:3910 and similar contracts to build a base automated 3910 contract that can be used across the construction sector. We have similarly worked with ACE NZ and Engineering New Zealand on the long and short-form consultancy agreements they publish.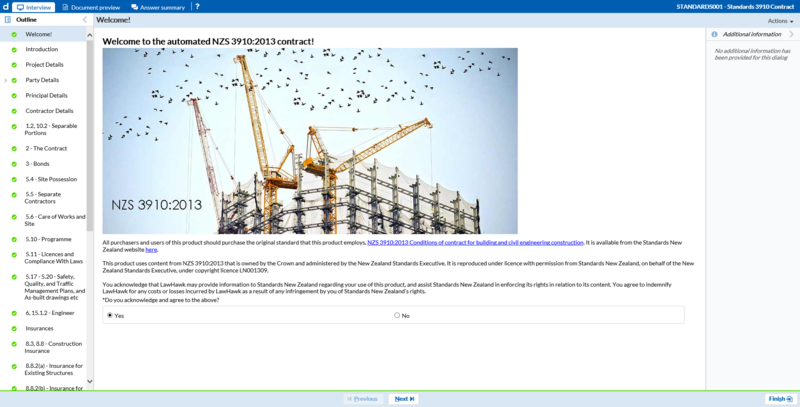 These are still in pilot pending industry feedback, but if there is demand, we could offer solutions based on:
use of the base templates, with automation, to streamline the production of documents in their standard form
use of customised versions of the base templates, similar to Kāinga Ora's approach, enabling consistent and fast production of customised versions with many options.
We are also working on initiatives related to preparing payment claims, health and safety questionnaires and sub-contracts.
The expected benefits of automation in the construction space apply at an individual organisation level and a whole sector level.
Expected benefits at an organisation level include:
Substantial productivity gains. Kāinga Ora were able to produce over twice the number of contracts (compared to before the original pilot) with the same number of staff
Faster turnaround times (average turnaround time to Kāinga Ora reduced from 6.5 days to 2.8 days (across the full contract suite)
75%+ reduction in the time taken to prepare contracts
⚬ time taken to prepare 3910 construction contracts reduced from around 4 hours to 1 hour
⚬ time taken to prepare short-form consultancy agreements reduced from approximately 50 minutes to 15 minutes
⚬ time taken to prepare long-form consultancy agreements reduced from 2 hours to 40 minutes
Much faster overall transaction times. What currently takes weeks to draft, negotiate, finalise and sign contracts could be reduced to days or less.
Reduced external spend
Reduced staffing costs. For Kāinga Ora, initially projected staffing requirements decreased from 8 contract facilitators to 4
Improved quality of contracts prepared, with fewer mistakes being made and less need for checking. Kāinga Ora staff learned more about the contracts using the automation tool
Easier template management as multiple templates can be combined into one, with the versions controlled by one or two questions in the interview questionnaire
Greater staff satisfaction, reduced stress, and better relationships with customers.
Potential benefits of automation of industry-standard documents at a sector level include:
The cumulative impact of the organisational level benefits
The ability to maintain consistency in the use of the industry-standard documents across the sector. For example:
⚬ Common concepts and risk allocation can be dealt with in the same way, in the same locations, reducing the "needle in a haystack" searches needed to search an entire contract to identify risky provisions
⚬ Enforcing compliance with agreed best practices, such as the Construction Sector Accord, by building key concepts and principles into the solution
⚬ Raising the level of capability across the sector by incorporating guidance as to legal requirements and best practices into the automation tool
More information and free trial
You can see our case study with Kāinga Ora here.
To discuss how LawHawk could help your organisation with its construction activities, or to arrange a free trial of some of our construction documents please click the button below:
wasnowsavefromtoapprox