Corporate/M&A
As experienced corporate and commercial lawyers, who have worked on many business and share sale acquisitions and joint ventures, these documents are another strength for us.
We can automate your complex asset or share sale agreement precedents with very little instruction required from you, as we already understand the key concepts and how the provisions should link to each other, and to the questionnaire.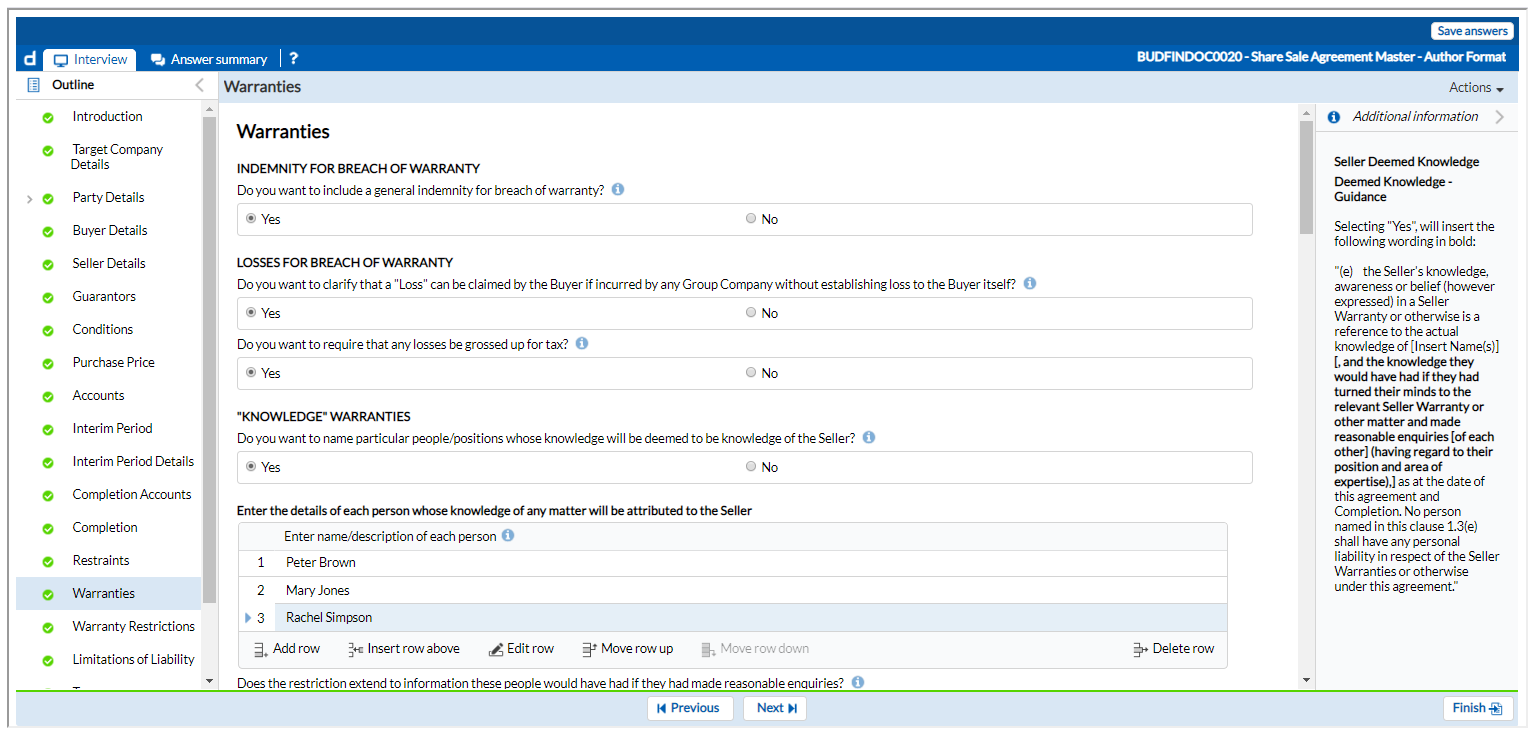 As examples of previous work, we have automated:
a complex share purchase agreement, with options for single or multiple buyers, sellers, target companies, guarantors, and restrained employees
a shareholders' agreement and constitution for a law firm (including turning example documents into precedents before automating)
buy-sell agreements
Because in our previous lives we've had responsibility for drafting these types of documents as precedents for law firms, we can also help you to improve your precedent before automating.
Expected benefits include:

Substantial time savings. A first draft of a complex share sale agreement can be completed by one person in under an hour with a full range of customisations, where currently it probably takes many hours and several people
Higher quality documents. Instead of using a previous document (from another firm on the last deal you worked on!), or copying and pasting from a variety of documents, your precedent can contain all the options, fully consistent with each other and ready to go. With our help, the precedent will be better too
Better service for your clients. M&A transactions usually occur under significant time pressure. If you can provide a higher quality document, more quickly, for an agreed fee, everyone wins
The ability to target the mid-market, where there is more transaction volume, with a high quality solution at a reasonable price.
To talk to us about how we could help you automate and digitise your corporate law practice, please click the button below:
wasnowsavefromtoapprox