Digital Signing
We are big fans of digital signing. We use it regularly ourselves, and recommend it to our customers. We can also help our customers start to use it effectively.
The problem with paper-based signing

Traditional paper-based signing processes have always had a number of problems, including:
The need to link them with approval processes (see our suggested process for that here)
The time and effort involved in printing, signing, scanning, emailing, chasing, and collating counterparts (particularly in a COVID-19 environment)
The difficulty in identifying hold-ups (for example, people who are unavailable) and how to deal with them
People not signing documents in the way required, or missing areas where they must sign or initial
The risk that someone changes a document without informing other parties
Difficulties in reconciling signatures on documents to the name of the signatory, and their capacity to bind the party
The frequent loss of original documents, and the misfiling of scanned copies
While digital signing is not complex to use anyway, and you can start in a low-risk way with things like contract approvals as set out here, when combined with document automation and integrated into Office 365, it becomes incredibly simple.
Our Digital Signing Solutions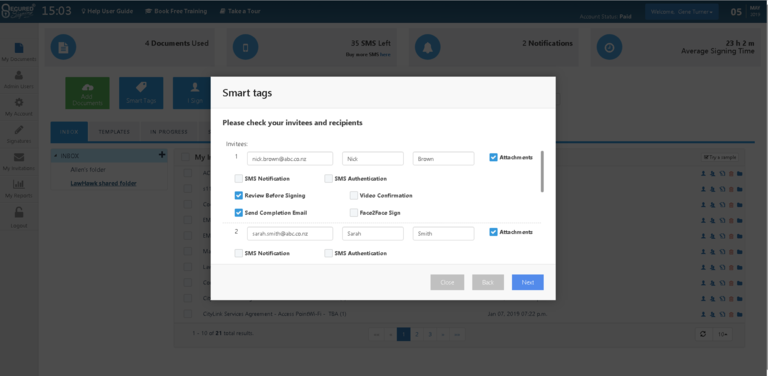 Our solutions can include:
Use of document automation to automatically create a signing block for every party to the contract
Making sure that each signing block also includes a "smart tag" which pre-identifies each signatory for that signing block, including names, email addresses and phone numbers
Launching the signing process directly from Outlook, Word or SharePoint
Having the signed document returned automatically to the SharePoint folder it was initiated from, and also to another email or location if required
You can see this webinar for some examples of how a process can work:
Expected benefits include:
Substantial time savings in managing signing (and related approval) processes
Significant cost savings (it's very low cost!)
Nobody can change a signature or a document without invalidating the document
Full transparency and auditability as to who signed what, when, and how, reducing the risk of a dispute later
You should never lose another contract again
To talk to us about how we can help you get started with digital signing, and get the most benefit from it, please click the button below:
wasnowsavefromtoapprox