Employment
We have a very comprehensive automated employment agreement that caters to a wide variety of scenarios. It's an ideal tool for a law firm that may need to draft a form of employment agreement for potentially any client, in any sector. Using our tool, you can quickly create a high-quality first draft in only 15-20 minutes.
As well as providing a wide range of clauses, our system also runs many checks in the background to prevent mistakes. For example:
Making sure that a fixed term agreement can only be drafted if genuine business reasons for needing a fixed term are entered
Not allowing a trial period if the employer has over 20 employees, or if the employee has previously been employed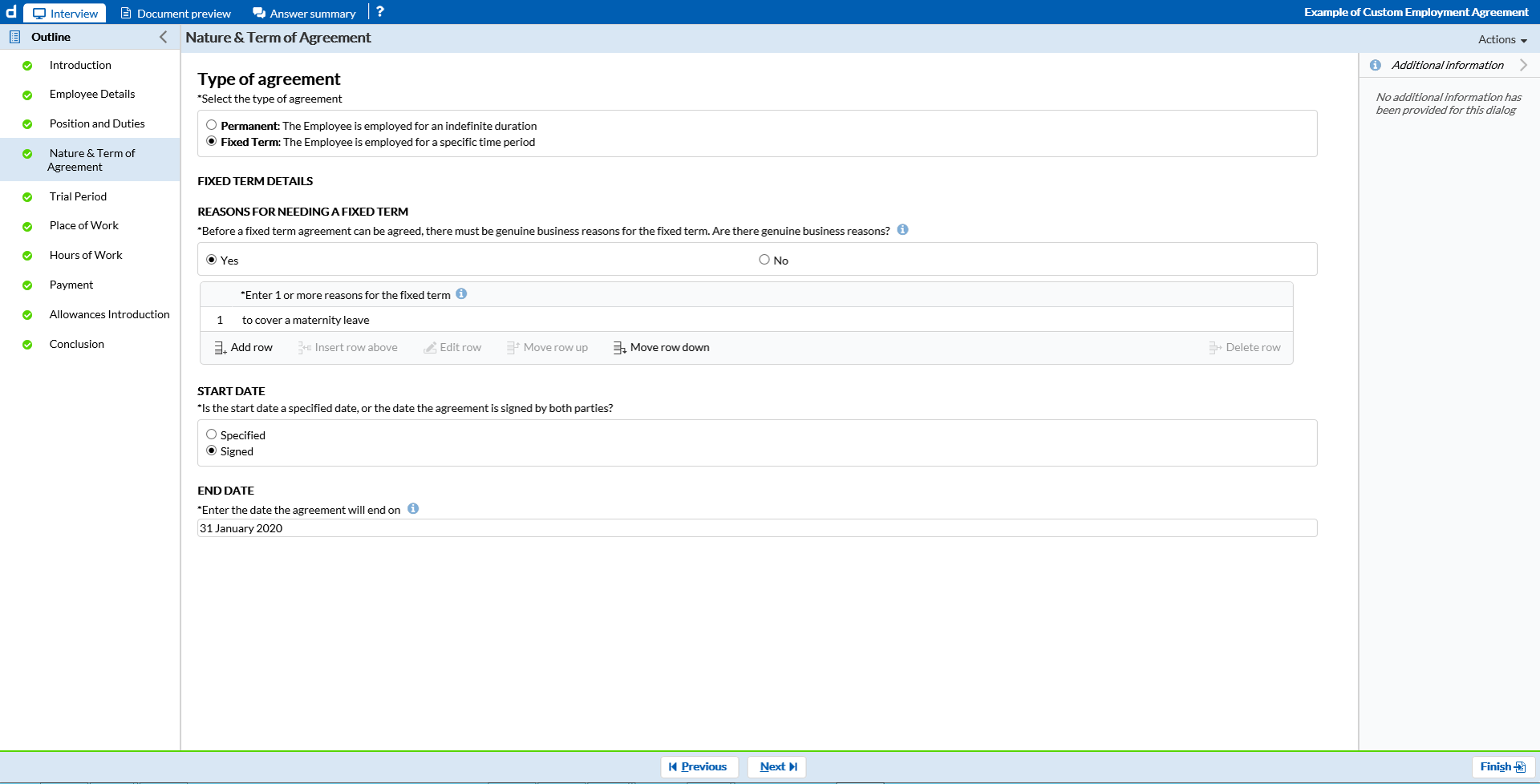 Of course, once you've worked through the questionnaire the first time to work out what options are relevant and which are not, from an ongoing use perspective the users don't want or need to see the irrelevant options. We can create subversions of our template that:

Only show the options that remain relevant
Default user answers to those that are most relevant or desirable
Use back-end tables to pre-complete standard details (e.g. locations or roles)
Are formatted to the organisation's own requirements
Have specific guidance, tailored to the organisation and the users
Also assemble other documents relevant to that organisation's employment practices (e.g. relating to the hiring or onboarding process)
Can be linked up to digital signing so the employee can sign up faster, all the documents get signed, and nothing is ever lost.
We can design these solutions directly for organisations to use themselves. We can also work with law firms so that the law firm can provide a more complete solution. For example, the law firm could also offer regular updating of the employment agreement to comply with the law and best practices, or could complete or review documents for their clients.
In today's fluid environment, when flexibility and agility around employment terms and conditions is important, our ability to make quick changes to your templates will be important.
Expected benefits include:
Substantial time savings. Each set of employment documents could take only a few minutes to create, and you don't have to keep entering the same names, job titles and locations for each separate document!
Avoid mistakes, that could cost many thousands of dollars in an employment dispute
Less need for senior management to review every employment agreement to check it has been prepared on the up to date template, without errors
If linked with digital signing, you can get your offer accepted more quickly. All the documents will be signed as required, and automatically returned for safe storage so nothing will ever be lost.
wasnowsavefromtoapprox