Limited Drivers Licences
Our limited licence applications contain a workflow which requires the client to complete a lot of the required information on a web-form. This includes checks to ensure that they will be eligible, so they can be ruled out quickly if not.
When they have provided their information, the law firm receives an email notification and can go into a section of the form just for them to complete the remaining details. The firm can then use the combined answers to generate advanced drafts of all the required documents.
Through our arrangements with the lawyer we worked with on this original project, both the automation and the documents he uses are available to be used as a base for your own process. If you already have your own documents and want to keep using them, we can adapt the automation to match those.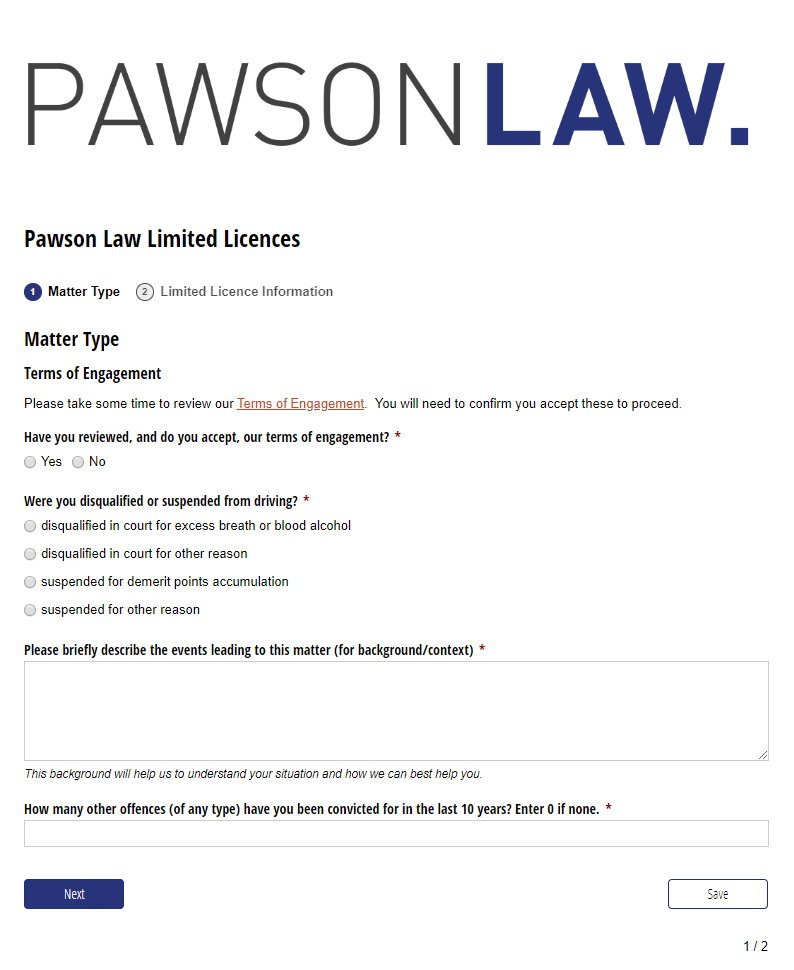 Expected benefits include:
Substantial time savings. We understand that it is commonly challenging to get all the information from the clients without a lot of chasing until the end of the 28 day period, when they suddenly want everything done instantly. You can now see the matter status at any stage, and don't have to look through the file to find information
A lot of the documents we initially worked on contained different formatting and ways of covering similar concepts. With our help, the documents can be all formatted in the same way, and as much as possible work in the same way, making ongoing template maintenance a lot easier.
How LawHawk helped Pawson Law create more hours in the day
To talk to us about how we could help you to better manage limited licence application processes, and make these matters more profitable and manageable, please click the button below:
wasnowsavefromtoapprox