Subcontractor Agreements Refurbished at Armstrong Downes Commercial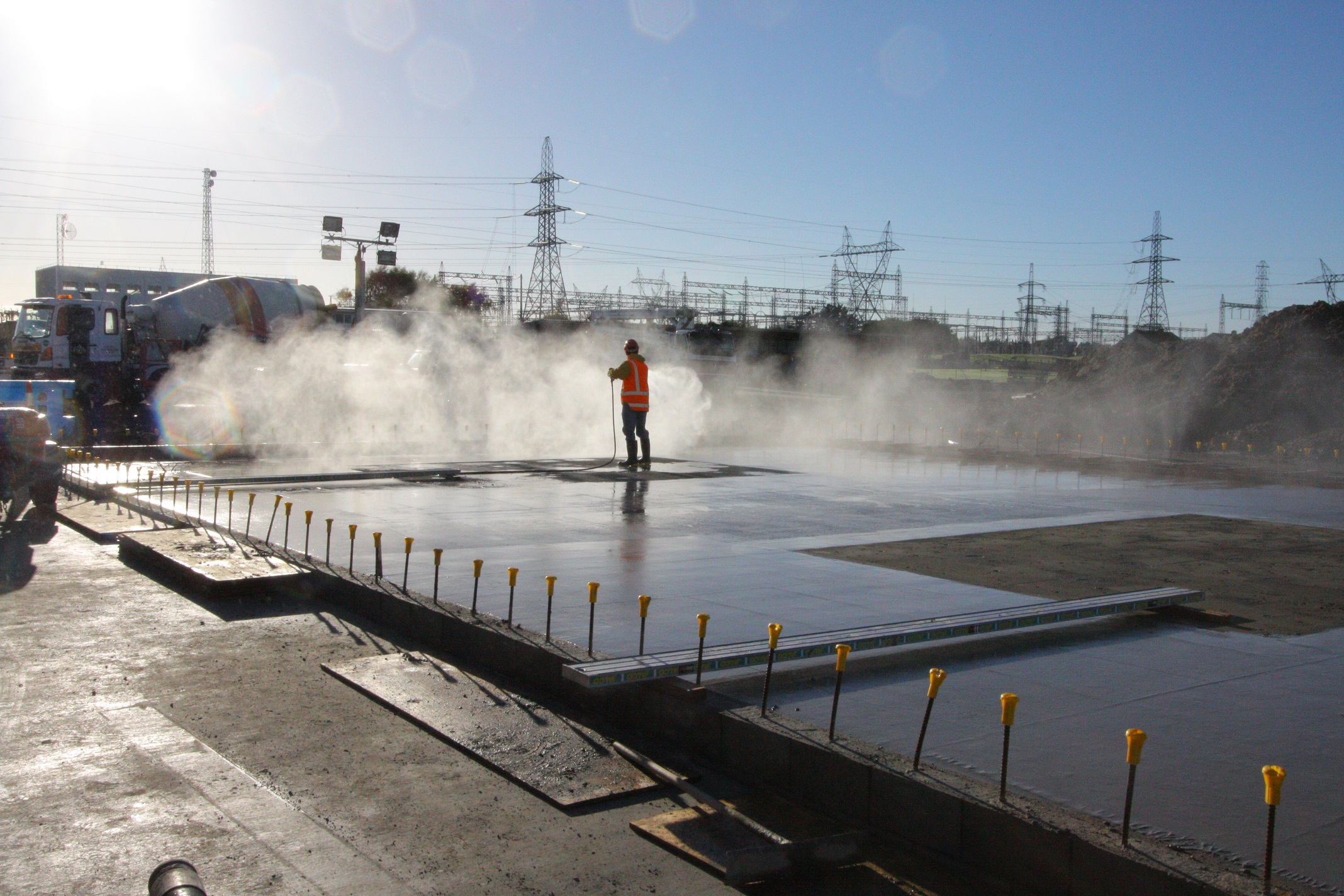 Armstrong Downes Commercial (ADC) is an award-winning commercial construction business that specialises in commercial construction for varied government and non-government projects across the Wellington region. Project labour is outsourced to over 400 subcontractors annually with 12 ADC employees responsible for managing subcontract negotiations and contracts.
Manual processes of writing, negotiating and finalising subcontractor agreements was causing headaches for the Armstrong Downes Commercial team. The team wanted to increase efficiencies to allow more time to focus on other critical work.

Subcontractor agreement contracts automatically populated through an automation system delivered by LawHawk saw Armstrong Downes Commercial eliminate costly delays and close negotiations faster.

Inefficiencies in managing subcontractors.
Phil Hebden, ADC's Commercial Manager, who oversees quality systems and company finance saw first-hand the magnitude of time and cost spent handling these agreements and thought, there must be a better way to approach the process. "We had recently shifted to the Master Builders SA – 2017 subcontract, which is the best subcontract document available to the industry, but we were still spending on average 3 hours per contract. When you do the math, that economically is not a good use of employee time," says Phil.
The current process was manual, time-consuming, and open to human error. Predominantly using word templates, the ADC team had to constantly double-handle data as they worked through the document templates.
World Commerce & Contracting Webinar: From Weeks to Hours: A case study on automating and streamlining the subcontracting process
When the contract was ready, it was sent to the subcontractor for signing. Phil says, "This came with problems of its own." Explaining, "A further issue with the sub-contract agreements was around the contractual and legal arrangements that were contained within them. We would have a pre-let meeting with a subcontractor and agree on the scope of work and the terms on which it would be done. We would then send subcontractors a copy of our subcontract agreement and they would red pen it, re-write it and send it back to us." This caused a lot of delays for both parties.

The projected timeframe for closing out all subcontract contractual agreements is 4 weeks. However, because of the delays outlined above, contracts could take up to 10 weeks. With documents and negotiation taking longer, subcontractors would delay material purchases to avoid the financial risks of purchasing without a finalised agreement, putting project timeframes at risk.
Aware of the financial implications of this inefficient contractual agreement process, Phil reached out to legal automation experts LawHawk for a solution to streamline and automate the process.

Laying the foundations for success with automation technology
LawHawk immediately recommended an encrypted online form builder to create contract and approval documents, paired with digital signing to manage the workflow of signing and returning documents. Phil agreed it was the best solution for their needs. Master Builders were supportive of the initiative and provided a version of SA – 2017 suitable for automation, and soon collaboration was underway.
Phil recalls the experience saying, "Initial delivery was very quick – only 3 weeks after we signed the contract, and the general functionality all worked straight away. We then spent around four months – accommodating a very busy lead into year-end - fine-tuning the system specifically for how we wanted to work. In all, we probably had ten meetings or video calls with LawHawk to get the user experience and functionality just right." Adding, "LawHawk made the whole process seamless. They were so knowledgeable and accommodating. Customising the system to meet our needs."
The system has been live at ADC since the end of December 2020. Phil calls the new step-by-step system, "Fantastically good." Explaining, "You start at step 1, then you go through to step 29. That is if you need 29 steps. The box entry means you type the details into the required fields, and the system will populate the document and take care of the rest. You never have to enter anything twice. Once the information has been loaded into the system in the pre-let template, when you hit 'Complete', it will automatically populate the entire contract."

From 10 weeks to 20 minutes - an efficiency transformation
After implementing the solution through LawHawk, ADC have completely transformed the subcontractor negotiation and contractual process.
"It's an absolute success story," says Phil. "While we started with a focus on just the documents, our entire process as it sits now is managed through the automated system." What was once a very manual and tedious 10-week process for the team is now completed in 20 minutes. "We've set up the document creation and the digital signing via Secured Signing so that the production of the subcontract agreement is completed at the end of a pre-let meeting." Phil says, "Our subcontractors are now signing agreements instantly off their mobile phones as they leave the pre-let meetings."
The encrypted PDFs are what makes this possible. Eradicating the back and forth, red penning and other administration that was common in the previous processes. "It certainly does away with a lot of those difficult negotiations that sometimes have to take place, streamlining the whole process," says Phil.
Providing both parties peace of mind, subcontractors can now leave pre-let meetings knowing the project is secure.
In addition to a faster negotiation period, Phil says, "What's nice about our new system is that we've got a better record-keeping process." Explaining, "We may have 13 projects on the go, and there could be up to 40 sub-contracts within each one. Every single one of our sub-agreements through the new system has a unique reference number and is stored automatically." This level of record management gives ADC an added level of security, future-proofing legal implications down the road. Phil explains, "If in ten years we are pulled up for liabilities under the Building Act, we will be able to identify what subcontractor signed off on the work and contact them to fix it."
All 12 people within Phil's team use LawHawk's solution, and the consensus is, they love it. Phil adds, "We've also had positive feedback from our subcontractors. We have also seen better management of our risk profile through standardisation and removal of multiple manual inputs. Also, from a Governance point of view we have huge confidence in the process and can be confident that the delegations of authorities have been fully complied with."
To other entities looking to streamline their contractual processes, Phil says, "Just do it. It saves so much time. It's not just a benefit from a financial point of view, but culturally for your staff too -- which is priceless."
How do you manage subcontracting in your business?
ADC and Master Builders would be happy to see similar improvements in subcontracting processes through the use of SA-2017 occur across the industry. If you would like an automated version, customised for your organisation, please contact LawHawk for a discussion on your requirements.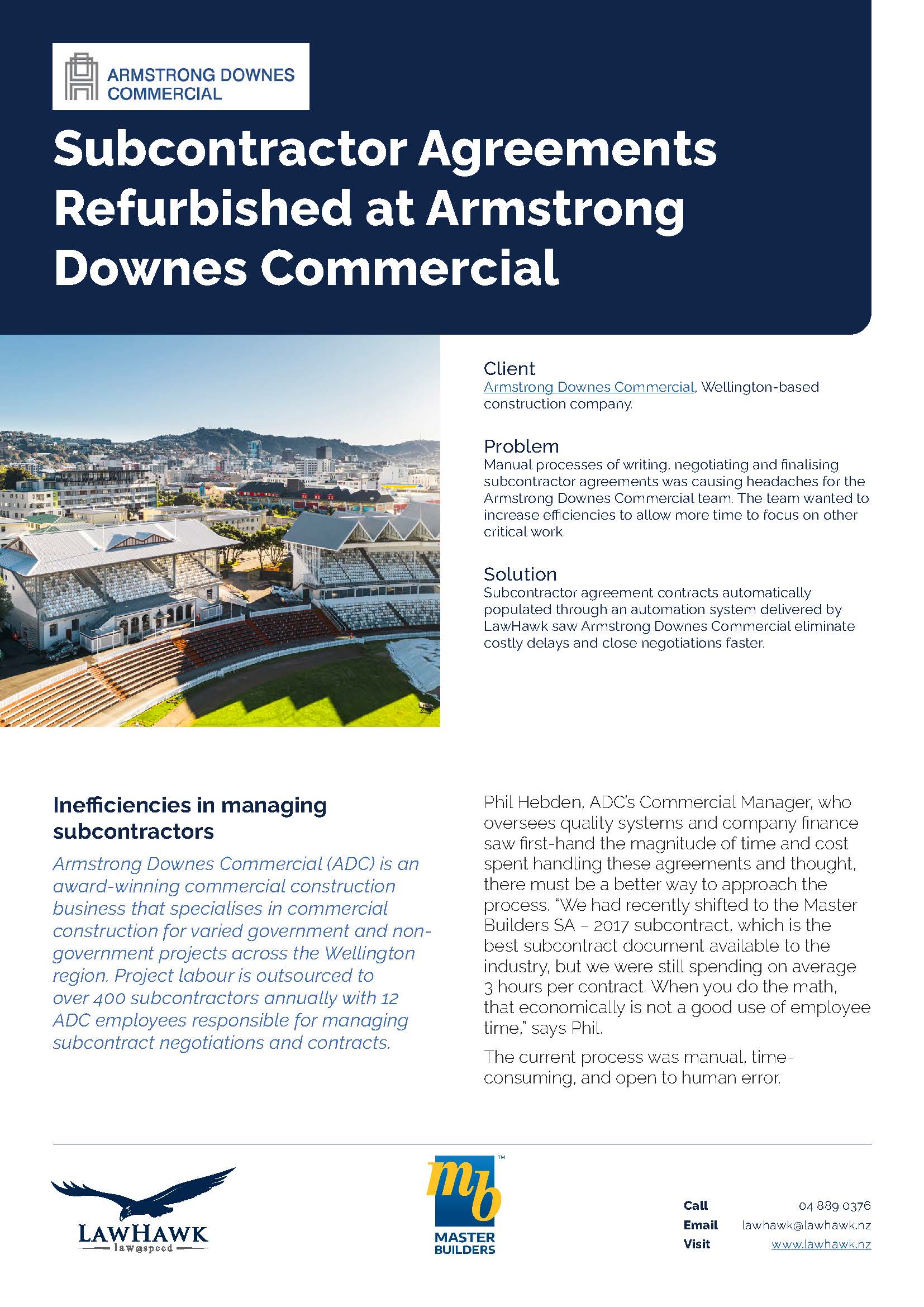 wasnowsavefromtoapprox